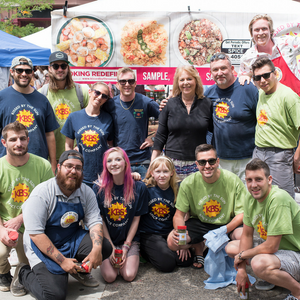 Liz & Rick Fickhesen Of Kissed By The Sun Spices
The clear blue waters and sandy beaches of the Caribbean served as the inspiration for our organic spice blends while owner Liz and hubby Rick were on honeymoon in the British Virgin Islands over 25 years ago. After being introduced to a fish head stew recipe made from local herbs and spices our best selling Seasoned Sea Salt blend was born. In the years to follow Liz and husband/owner Rick would continue to craft flavorful assortments of spices using all natural and organic ingredients much like the ones first discovered on the tiny island.  
-
As a mother of 5 children owner Liz stays hard at work crafting new blends all while doing what she does best - being a Mom. Today, friends and family of Kissed by the Sun travel to over 60 fairs, farmers markets, and street fairs across the country promoting our delicious seasonings blends. Our mission is to help hungry folks everywhere discover the inspirational power of food through fun and creative cooking.
---