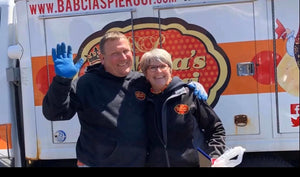 Linda and George Lund Of Babcia's Pierogi
Babcia's Pierogi was created by Linda F. Lund and George Lund out of our love & passion for cooking.
As a young girl, we were taught to cook by our Mother and Grandmother, using recipes that had been handed down in their families. All of our pierogi are still made the old-fashioned way, using only the freshest ingredients. We hope that you will enjoy eating them, as much as we enjoy preparing them for you.
Our homemade pierogi include traditional flavors along with our uniquely delicious signature and specialty flavors.
Website / babciaspierogi.com!
---