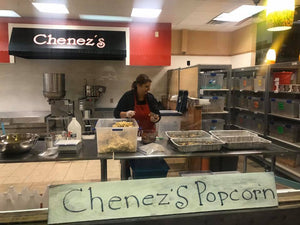 Karla and Lilly Chenez Of Chenez's Popcorn
Our son Joe played travel baseball and one of his tournaments took us on a road trip.
Our daughter Lilly LOVES popcorn so my wife Karla found a place that sold gourmet popcorn. In between Joe's games we took a ride.
When we walked in this store Lilly was in heaven!!! We taste tested popcorn until we were full!! At that point I turned to Lilly and said "we can make this".
We came home and started making our popcorn on the stove every single night for about 5 months when we got home from work and school and on the weekends we played around with different ideas and recipes until we nailed each recipe!!
We started to bring our popcorn to work and school and there was not one bad review about our recipes! People started asking us for more and then began giving us ideas for different flavors. This is when we knew we had something special!
We have grown to over 20 flavors and we are not stopping there!
Our goal at Chenez's Popcorn is to make as many flavors as anyone can come up with.
We are having a great time doing it and enjoy putting smiles on people's faces!
We thank you so much for your business and hope that you have a smile with every bite!
---