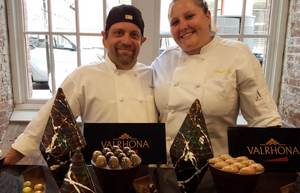 Amanda & Kenny Of The Sweet Whisk
Between them, Amanda & Kenny of The Sweet Whisk have more than thirty years of professional culinary work under their belts. This partnership started in a kitchen and now they have their own. Kenny began his career learning the ropes from the ground up. His career began by mastering every position in the kitchen. As his mastery of the culinary arts expanded, he tried on the hats of Kitchen Manager, General Manager, Sous Chef, and most recently Head Chef at various restaurants across the Southern United States. Amanda studied Baking & Pastry Arts and Food Service Management at Johnson & Wales University in Charlotte, North Carolina. After studying she went on to serve as the Executive Pastry Chef for several restaurants. 
Amanda & Kenny met in a fated South Carolina kitchen where they were working to perfect menus together. They bonded over dreams of applying what they had learned over their years. Each had a dream of working for themselves. Their partnership became romantic and deciding to take a much-needed vacation they headed to Paris, France. Workaholics that they are, they used the opportunity to take some French pastry and chocolate classes. They realized in these classes that this was the dream that they wanted to create. A chocolate shop focused on Bon Bons and other desserts would give them the creative freedom they were looking for. They spent the next years focusing on how they would make this dream come to life. They moved across the country to Amanda's hometown of Buffalo, New York. Armed with Kenny's kitchen and management expertise and Amanda's stellar desserts they created The Sweet Whisk. They opened their kitchen at the Broadway Market in time for Valentine's Day in 2019- the perfect excuse for Chocolate. 
​
They are now located in the building at 27 Chandler Street, that holds 15 incubator kitchens as well as a new restaurant Waxlight Bar A Vin, all part of the Chandler Street revitalization! Their kitchen is located on the 3rd Floor of the building, suite 315, with retail in the space now open! 
---